Leaf's Newest Wrestling Product is Full of First-Time Signers and Surprising Names
By Michael Moore, WrestlingTradingCards.com Contributor
A quick glance at the 2023 Leaf Heroes of Wrestling checklist shows that collectors have a lot to be excited about.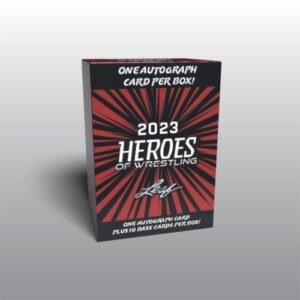 The 2023 product has a unique format compared to previous releases. It's a retail-exclusive release, with each blaster box containing a full set of 10 base cards and one autograph at a cost of about $30. This is an interesting format that will allow collectors who usually shy away from expensive hobby boxes the chance to crack open a few blasters. Leaf is touting this as the first wrestling product to offer one autograph per blaster, but it's not; all Tristar TNA releases from 2008 to 2013 included blasters with 20 or so base cards and a guaranteed auto.
In addition to autographs from the biggest legends and top stars from the current major companies, 2023 Heroes of Wrestling is full of first-time autographs, independent wrestlers, international stars and more.
Here's a quick look at 10 cards that really jump out.
1. El Hijo del Vikingo. This young high flyer has been the top star in Mexico's AAA promotion the last few years, and his unbelievable moves have led to plenty of GIFs and videos shared on social media. Recent appearances on AEW Dynamite have only increased Vikingo's profile, and this could be one of the most sought after cards in the set.
2. Sasha Banks. Leaf has never shied away from using WWE trademarked names, but it is somewhat surprising to see them include someone who isn't far removed from the company. This is one of Sasha's first non-WWE cards in over a decade.
3. Jay White. AEW surprised a lot of people with the signing of "Switchblade" a few weeks ago, and this is likely to be a very popular card. White was the top gaijin in New Japan since the departure of Kenny Omega in 2019. White had some cards in the Japanese Bushiroad products the last couple years, but this marks his first certified autograph.
4. Atsushi Onita. The Japanese death match legend has gained a new following in recent years, thanks to a Dark Side of the Ring episode and wrestlers in AEW and GCW paying tribute to him. This card marks Onita's first mainstream American wrestling trading card and autograph.
5. SANADA. The current IWGP World Heavyweight Champion has been one of the best wrestlers in the world for the last several years. More fans are giving him a look thanks to the spotlight that comes with being the top champion in NJPW, but some American fans may remember him for his brief run in TNA as the Great Sanada. His autographs have appeared in a handful of BBM sets from Japan, but this will be his first widely available certified autograph outside of Japan.
6. Steve Keirn. Leaf made the first certified autograph of Stan Lane a few years back, and this will be a chance for collectors to grab the first certified signature from his longtime partner in the Fabulous Ones. In the 1970s and 1980s, Keirn was a star everywhere he went, including Florida, Memphis and the AWA. Keirn was nearly unrecognizable during his early 1990s run in the WWF as Skinner. Keirn hasn't appeared on a mainstream wrestling card since 1993.
7. Ultimo Guerrero. Ultimo Guerrero isn't nearly as well known in the U.S. as he is in Mexico, where he has been one of the top stars of the CMLL promotion since the 1990s. He appeared briefly in TNA in 2008 during one of their World X Cup tournaments, but fans didn't get a real sense of Guerrero's star power. He was inducted into the Wrestling Observer Hall of Fame in 2019. This will be his first mainstream trading card since a late 1990s BBM card.
8. Sami Callihan. Ever since saying goodbye to WWE in 2016, the former Solomon Crowe has been one of the top stars of Impact Wrestling and across the U.S. independent scene. Callihan has appeared in plenty of independent wrestling sets, but the new Leaf product will be his first certified mainstream autograph.
9. Pagano. If you've never seen Pagano, think of Matt Borne's Doink the Clown mixed with Penta El Zero Miedo, with a lot of blood and guts thrown in. Pagano has been one of the top stars in Mexico's AAA Promotion for the last several years, and he also made appearances in Impact Wrestling and other U.S. independents. His only other well known card is from Panini's 2019 AAA Lucha Libre Worldwide set.
10. La Hiedra. La Hiedra is one of the top female stars in Mexico. On top of that, she has amassed more than 330,000 followers on Instagram thanks to her sultry posts. This card could be a very popular one.
Dishonorable mention: Ted Dibiase, Jr. Yikes. Talk about rough timing.
Other first-time or infrequent signers in this set include Bobby and Jackie Fulton, Barry Horowitz, EVIL, Hiromu Takahashi, Shingo Takagi and "Wildfire" Tommy Rich.
Michael Moore is a longtime card collector, wrestling fan, and freelance writing living in Casper, Wyoming. A 10-year veteran of the newspaper business, his articles have also appeared in Pro Wrestling Illustrated, Beckett sports collectibles publications, Tuff Stuff Sports Collectibles, and more. Contact him at michaelmoorewriter@gmail.com or follow him on Twitter or Instagram @mmoorewriter.