Leaf's Latest Offering Includes Wrestling Cards
By Michael Moore, WTC Contributor
Leaf Trading Cards' annual Pop Century product is always one of the most diverse and eclectic sets in the hobby. Pop Century includes autographs from every corner of the entertainment world, including actors, singers, reality TV stars, athletes, politicians and many more. Pop Century usually offers a handful of pro wrestling names as well, and past sets have included the likes of "Stone Cold" Steve Austin, Edge, Ric Flair, Mick Foley, X-Pac, Hulk Hogan and more. Leaf's newest Pop Century also features signatures from several wrestlers and wrestling personalities.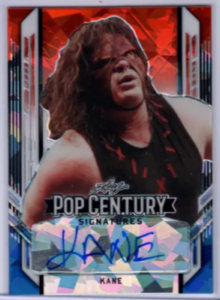 The 2021 Leaf Metal Pop Century product is scheduled to be released on November 26 at a cost of around $250 a box. Each box includes four cards; according to a post from Leaf, most boxes offer three autographs and one memorabilia card. A preview product, the Red, White, and Blue edition, was released as an online exclusive for $350 a box earlier this week and quickly sold out. Several single cards are already available on eBay.
The 2021 base autographs set includes signatures from Kane, Stacy Keibler, and "Stone Cold" Steve Austin. Other wrestling-related personalities in the base autograph set include former nWo member Dennis Rodman, Mike Tyson, and Mark Cuban, among others. Keibler is also featured in the Heartbreakers and Keeping it Real autograph sets. Dwayne "the Rock" Johnson is included in the Superstar Swatches memorabilia set.
Kane has signed plenty of WWE cards for Topps, and Keibler last appeared in the 2008 Americana set from Donruss. Austin is bound to be a high dollar autograph; he was included in the 2018 Pop Century product, but aside from that, his only certified wrestling autographs can be found in the 2001 Fleer WWF WrestleMania set and the super high end WWE Transcendent products from Topps. Leaf CEO Brian Gray told me in a 2018 interview that Austin's WWE contract prevents him from signing cards in non-WWE wrestling sets, but he is able to sign for entertainment products like Pop Century.
Hulk Hogan isn't in the base autographs checklist, but he does appear in the Starring Roles Autographs set. It's quite a unique card that will appeal to a lot of different collectors, as it features an older picture of Hogan and commemorates his breakout role as Thunderlips in 1982's "Rocky III."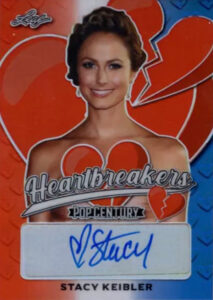 Two of the coolest wrestling cards in 2021 Leaf Metal Pop Century are in the Dual Autographs set. Jimmy Hart managed Greg "the Hammer" Valentine for a lengthy period from 1984 to 1990, and the two are paired together on a dual signature card in this set.
Gray shared an anecdote about Valentine with me during that 2018 interview.
"I remember mouthing off to him and him hauling back like he was gonna hit me; I remember just sinking down in my seat just scared shitless," Gray said at the time. "So my whole life I've remembered Greg Valentine scaring the crap out of me, and every time I see him it brings back memories."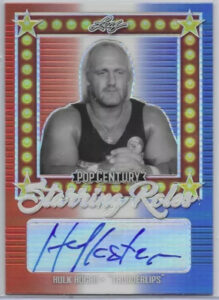 Another card that will give longtime fans a chuckle is a dual signature of Kane and Pete Rose, who had a lengthy feud that spanned several WrestleMania's during the WWF's Attitude Era. Rose has probably the most abundant autograph in sports, but this card features a nice tie-in that will appeal to wrestling collectors.
What are your thoughts on the newest Pop Century set? Leave a comment below or start a conversation on Twitter with @MMooreWriter.
Michael Moore can be reached at MichaelMooreWriter@gmail.com. Follow him on Twitter @MMooreWriter.