By Michael Moore, WrestlingTradingCards.com Contributor
Thanks to a plethora of podcasts, WWE Network, YouTube and documentary series like "Dark Side of the Ring," older wrestling promotions ECW and Smoky Mountain Wrestling continue to reach new audiences more than two decades after running their last shows. Collectors looking for trading cards and autographs of stars from these two promotions can find some of them in an unlikely place: a TNA set.
In 2010, TNA ran its own ECW-themed pay-per-view, Hardcore Justice. Although the event itself received mixed reviews at best, card manufacturer Tristar capitalized on the event by producing a trading card series specific to the event, 2010 TNA Xtreme. In addition to the regular TNA stars of the time – AJ Styles, Hulk Hogan, Jeff Hardy and others – the set also included cards of most of the ECW-related wrestlers who participated in Hardcore Justice. The set included base cards recapping the event, along with first-time (and, so far, only) certified autographs of several of the former ECW wrestlers.
Here's a look at some of the top cards and autographs that were unique to 2010 TNA Xtreme. Keep in mind that many of these cards are very difficult to find and very rarely pop up for sale in 2021.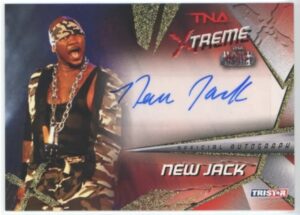 1. New Jack. The late Jerome Young is something of a cult hero to some fans, thanks to his intense promos in Smoky Mountain Wrestling and his all-out brawls in ECW. He was profiled in the episode titled, "The Life and Crimes of New Jack" during the second season of "Dark Side of the Ring" before his death earlier this year. Interest in New Jack's action figures increased substantially after the episode aired, and even more so after his passing. Interest in his cards likely would have increased as well, except there are so few out there, and these were tough to find even before New Jack's death. Card #X10 features a solo autograph from New Jack, and card #X2-10 features signatures from Jack and Gangstas partner Mustafa Saed, identified as Mr. Mustafa on the card.
2. Tracy Smothers. In ECW, Smothers was relegated to mid-card comedy status as part of the Full Blooded Italians, which was actually a step up from his forgettable run as Freddie Joe Floyd in the WWF. But prior to that, Smothers was a two-time heavyweight champion for Smoky Mountain Wrestling, a promotion that regularly seems to find a new audience. Smoky Mountain Wrestling has been regularly discussed on podcasts like "the Jim Cornette Experience" and "Booking the Territory Unprofessional Wrestling Podcast," were cohost Doc Turner has opined that Smother was "their Hulk Hogan." Smothers has a solo autograph in TNA Xtreme, along with a six-person autograph with Tony Luke, Little Guido Maritato, Kid Kash, Simon Diamond and Swinger.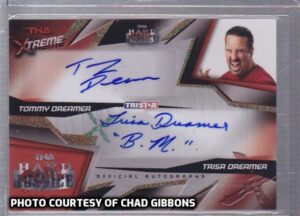 3. Tommy Dreamer, Bealuah McGillicutty and Raven. Dreamer's signatures have appeared in multiple sets over the years, and he has a few different cards in this one as well. The most desirable cards of Dreamer from TNA Xtreme include a dual auto of Dreamer and longtime nemesis Raven (#X2-14) and another dual auto with wife Trisa, aka Beulah McGillicutty (#X2-9). There is also a triple auto of Dreamer, Raven and Mick Foley (#X3-3), recalling arguable the top rivalry in ECW history. The checklist also identifies card #X4-4 as a quad auto of Tommy and Trisa Dreamer with their daughters, Kimberly and Brianna.
4. Joel Gertner. Well, well, well. The foul-mouthed former manager of the Dudley Boys hasn't found his way into a lot of trading card sets, but thankfully, Tristar included him in this one. Gertner's solo auto can be found on card #X27, and he is also featured on card #X3-D with Brother Ray and Brother Devon, aka Bubba Ray and D-Von Dudley.
5. Bill Alfonso. The long-time referee became a manager in 1995, aligning himself with Rob Van Dam and Sabu. He remained with RVD when he became the most popular wrestler in the last days of ECW, and collectors have a genuine affection for "Fonzie" to this day. He's pictured on cards #X15 (single auto) and X3-7 (with Sabu and RVD).
Other notable autographs of ECW alumni exclusive to 2010 TNA Xtreme include Axl Rotten, Tony Luke, Swinger, Simon Diamond, CW Anderson, Justin Credible (identified as "PJ Polaco aka J Credible"), Stephen DeAngelis, Nova, and referees Mike Kehner and John Finegan. The set also includes plenty of former ECW stars who have appeared in other products, such as RVD, Mick Foley, Rhino, Stevie Richards, Al Snow, Taz, Too Cold Scorpio and more.
WTC Contributor Michael Moore can be reached at [email protected]. Follow him on Twitter @MMooreWriter.