Five Wonderful Cards of Paul Orndorff
By Michael Moore, WrestlingTradingCards.com Contributor
In the summer of 1986, two 10-year-old kids sat in front of a small television set, eagerly anticipating the big tag team main event. World Wrestling Federation Champion Hulk Hogan was making a rare TV wrestling appearance, as he joined forces with "Mr. Wonderful" Paul Orndorff to take on the gargantuan team of Big John Studd and King Kong Bundy.
In the weeks leading up to the match, something seemed off about Orndorff. He was irked when Hogan was too busy training to take his phone call. In a tag team match against the Moondogs, he did all the work himself, refusing to tag Hogan. And he insisted that ring announcer Howard Finkel introduce him as "the old Mr. Wonderful."
"You know what I think is gonna happen?" one of the boys asked his friend. "Orndorff is gonna turn on Hogan and beat him up with Studd and Bundy."
"Nuh-uh," his friend replied. "Orndorff is a good guy."
I was the 10-year-old boy who accurately predicted Orndorff's turn. And I watched in horror as "Mr. Wonderful" – my hero and favorite wrestler – clotheslined Hogan and gave him a vicious piledriver, once again aligning himself with manager Bobby Heenan.
I was heartbroken. I was by no means a Hulkamaniac, but I rooted for the good guys. I wasn't one of the too cool kids who cheered on the bad guys; I liked Luke Skywalker and He-Man, and I liked Paul Orndorff. And he betrayed me!
Any child of the 80s who grew up watching pro wrestling can relate to that story. For many of us, Orndorff attacking Hogan was the first major heel turn we had seen. In my mind, Orndorff's turn was the best ever until Hogan himself switched heel a decade later.
The news of Orndorff's passing was a real shot to the gut. We Gen Xers have lost a lot of our wrestling heroes in recent years, but this one really hurt.
Orndorff has been featured in plenty of wrestling trading card sets for more than four decades now. If you're looking to add some cards of "Mr. Wonderful" to your collection, here are five of his top cards.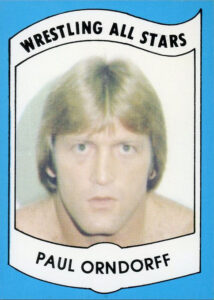 1. 1982 Wrestling All-Stars #12. Like many of his contemporaries, Orndorff is featured in this landmark set. The card features a somewhat washed out headshot of Orndorff against a blue background. Since Orndorff's death, this has been one of his most frequently sold cards, with price increases seen in both graded and raw copies.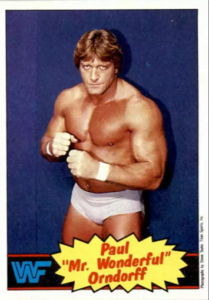 2. 1985 Topps WWF Pro Wrestling Stars #5. This set was the gateway into collecting wrestling cards for many fans, as it was the first readily available set sold in convenience stores and big box retailers. "Mr. Wonderful" is featured on several cards in the set. This one features him standing with fists up, looking ready for a fight.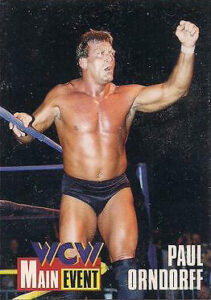 3. 1995 Cardz WCW Main Event Trading Cards #10. This card isn't particularly noteworthy, but it is a rare piece of memorabilia from Orndorff's WCW run in the 1990s. Card #37 also features Orndorff with "Pretty Wonderful" tag team partner Paul Roma during the team's run as WCW Tag Team Champions.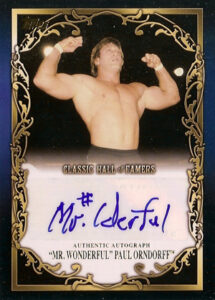 4. 2012 Topps WWE Classic Hall of Famers Autograph. If you're looking for a certified autograph of "Mr. Wonderful," it might be a little more difficult than you think. Orndorff has very few autographs, and this is one of the most popular. Orndorff signed the stickers for these cards "Mr. #1derful."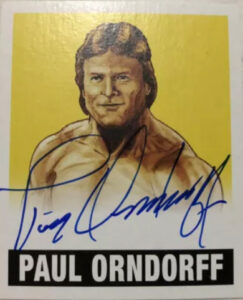 5. 2012 Leaf Originals Wrestling Autographs. Because of all of the color variations, this card is considerably easier to find than Orndorff's Topps auto. It also features a more traditional signature.
WTC Contributor Michael Moore can be reached at michaelmoorewriter@gmail.com. Follow him on Twitter @MMooreWriter.