Wrestling Trading Cards from Non-Wrestling Sets
By Michael Moore, WrestlingTradingCards.com Contributor
Sports card companies have been including cards of wrestlers in multi-sport and entertainment sets for nearly 135 years. Way back in 1887, Allen & Ginter produced a tobacco trading card of Matsuda Sorakichi, believed to be the first Japanese pro wrestler. Ever since then, pro wrestlers have been prominently featured in various trading card sets.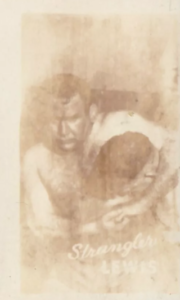 The 1948 Topps Magic Photos set features cards from just about every sport, amateur and professional. If you've never seen one of these cards in person, they're tiny, measuring an estimated 7/8" by 1-7/16". A one-card pack initially sold for 1 cent. There are about 25 pro wrestlers in this set, including pioneers like George Hackenschmidt, Ed "Strangler" Lewis, Jim Londos, "the French Angel" Maurice Tillet and more.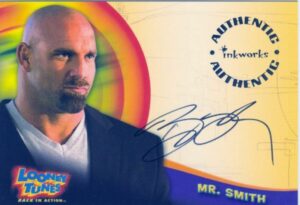 Two of wrestling's biggest stars appear on movie trading cards from the early 2000s. Dwayne "the Rock" Johnson has an autograph and plenty of base cards in a 2002 Inkworks set of "The Scorpion King." Bill Goldberg had a part in the 2003 film, "Looney Tunes: Back in Action," and the Inkworks set from that movie features his autographs.
Since the early 2000s, companies like Topps, Upper Deck, Panini and Leaf have continued pumping out multi-sport and entertainment trading card sets. Topps created the blueprint for these types of sets with 2006 Allen & Ginter Baseball, which featured base cards, memorabilia, and autographs from wrestlers, actors, athletes, and more. That set included a framed mini-autograph of Hulk Hogan, which is one of the most popular cards in the set.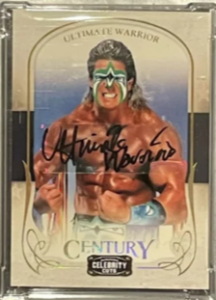 The Ultimate Warrior was at odds with WWE until just before his passing in 2014, so there are no signed WWE trading cards of him. However, Donruss (now Panini) included base, memorabilia, and autographs of Warrior in its 2007 American product and a higher end follow-up, 2008 Americana Celebrity Cuts. Ric Flair appeared in the 2009 Americana set shortly after retiring from WWE. That set included Flair's first certified autograph, depending on where you stand on "the Nature Boy's" controversial Topps WCW/NWO autograph from 1998.
In the Game, which has since been purchased by Leaf Trading Cards, included several wrestlers in its Sport Kings products beginning in 2009. That first set included base, memorabilia, and autograph cards of top stars like Bret Hart, Roddy Piper, and Bruno Sammartino. Also in 2009, Upper Deck included a signature of Missy Hyatt in its World of Sports product, and Press Pass' multisport Fusion set included rare collegiate wrestling autographs of a young Brock Lesnar. In the Game also produced a Canadian-exclusive set called Canadiana in 2011. This set featured well-known Canadian celebrities, including autographs from Bret Hart, Trish Stratus, and Maurice "Mad Dog" Vachon.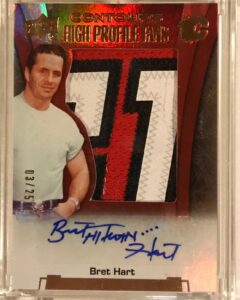 Some of the coolest cards of wrestling you'll ever see can be found in the 2015 Upper Deck Contours Hockey set. A subset called High Profile Fans includes autographs and swatches of jerseys worn by Bret Hart (Calgary Flames) and CM Punk (Chicago Blackhawks). The basic versions of these auto/jerseys include a jumbo jersey piece and are serial numbered to 149 for Hart and 199 for Punk. There are also very limited edition parallels that feature multi-colored patch pieces, numbered to 25.
Punk and Hart also appeared on several base and autograph cards from 2016 Upper Deck Goodwin Champions, including a very rare Goudey Sport Royalty dual autograph. The Goodwin Champions set has also included base, relic, and autograph cards of wrestling personalities like Mark Henry and Vince Russo, both from 2020.
Hulk Hogan, arguably the biggest name in pro wrestling history, has been showcased in sets from just about all major manufacturers. In addition to his 2006 Allen & Ginter cards, Hogan (as his Thunderlips character from "Rocky III") also appears in the 2015 set. Hogan has also been featured in sets such as 2012 Upper Deck Goodwin Champions, 2015 Panini Americana, and 2015 Leaf Pop Century.
In addition to Hogan, Leaf's Pop Century brand has also included several other wrestlers over the years, including Steve Austin (2018), Edge (2019), Ric Flair (2019), Mick Foley (2016), and Sean "X-Pac" Waltman (2016). Other multi-sport products from Leaf have included signatures from Kenny Omega, such as 2017 Leaf Metal Sports Heroes. And if you're looking for an incredibly rare and expensive card, Leaf's 2018 Pearl featured a six-person autograph of Flair, Hogan, Austin, Hart, Michaels and Foley, with only three copies made.
Since 2006, the Allen & Ginter line has frequently included autographs from pro wrestlers like the Iron Sheik and Shawn Michaels. In 2019, Topps included a certified signature of the original Tiger Mask (aka Satoru Sayama).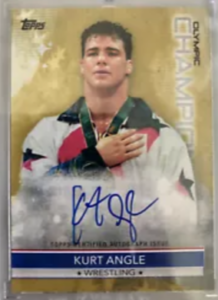 Most recently, Olympic gold medalist and multi-time WWE and TNA World Champion Kurt Angle was included in Topps' 2021 Olympic trading card sets. You may be able to find blaster boxes of these at your local Walmart for $9.99.
What are your favorite wrestling cards from non-wrestling sets? Reach out to us on Twitter to join the discussion, and be sure to tag @MMooreWriter and @WrestlingTradi2.
WrestlingTradingCards.com contributor Michael Moore can be reached at [email protected]. Follow him on Twitter @MMooreWriter.