Cards from the Darkside: The Midnight Express
By Michael Moore, WrestlingTradingCards.com Contributor
Eight months into the year, 2021 has been one of the most painful in terms of wrestler deaths. The passing of "Beautiful" Bobby Eaton, who died at the young age of 62, hit many fans especially hard. He was a man beloved by fans, friends, and colleagues alike.
Eaton is remembered fondly as a member of the Midnight Express. In the early 1980s, Eaton teamed with "Loverboy" Dennis Condrey and manager Jim Cornette in Mid-South Wrestling and World Class Championship Wrestling before taking their act to the National Wrestling Alliance's Jim Crockett Promotions in 1985. Condrey departed the promotion in 1987 and was replaced by veteran tag wrestler "Sweet" Stan Lane. Both versions of the Express are considered two of the best wrestling tag teams of all time.
But for a team of their stature, the Midnight Express have relatively few trading cards. Leaf Trading Cards righted that ship in the mid 2010s with some autographs of all four men, but collectors trying to find other cards of the Midnight will have to do some digging.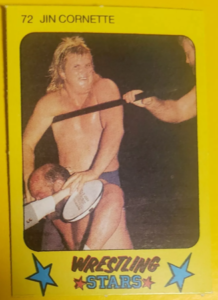 The Midnight Express was first featured (sort of) in the infamous 1986 Monty Gum Wrestling Stars set. The well-known set with the bright yellow borders was not a licensed released, and lifted many of the images from wrestling magazines. Card #72 is titled "Jin" Cornette, but only features Cornette's hand and tennis racket; Eaton actually dominates most of the card, with a slight glimpse of Condrey's head.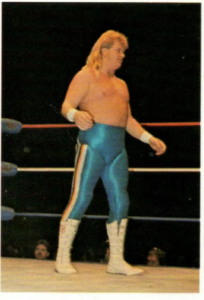 Eaton and Lane were both featured in Wonderama's 49-card test run NWA Wrestling Supercards set in 1987, and then several more times in the expanded version of the much more widely produced 1988 set. Some collectors consider the Eaton and Lane cards from the 1988 set to be rookie cards, since the 1987 print run was so low, with only 113 sets reportedly produced.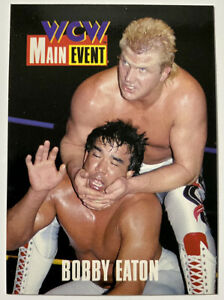 Jim Crockett Promotions became World Championship Wrestling once Ted Turner purchased the company in the late 1980s, and there wasn't a lot of WCW merchandise during that period. Cornette and Lane departed WCW in late 1990, but Eaton stuck around for another decade. Eaton was featured in at least three sets from the early 90s: 1991 Championship Marketing WCW, 1995 Cardz WCW Main Event Trading Cards, and the UK-exclusive 1992 Topps WCW set.
Cornette was featured in a handful of WWF trading card sets in the 1990s, such as 1993 Merlin WWF Superstar Stickers and 1998 Comic Images WWF Superstarz. He was also included in early TNA releases from Tristar, such as the 2008 Impact and Cross the Line sets.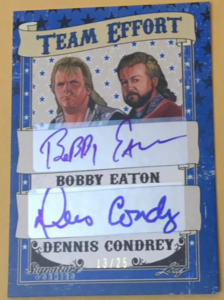 But more recent sets from Leaf Trading Cards have been the best source for cards of the Midnight Express, especially certified autographs. The 2016 Leaf Signature Series Wrestling set in particular is loaded with some cool combinations, such as Eaton/Ricky Morton Adversaries, and Team Effort dual signatures of Lane and Eaton, Eaton and Condrey, and Cornette and Condrey. On-card autographs of all four men can also be found in the 2017 Leaf Originals Wrestling Set.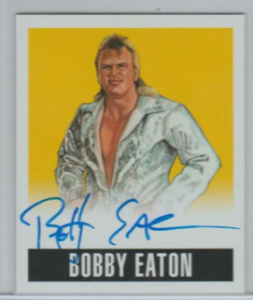 WrestlingTradingCards.com contributor Michael Moore can be reached at MichaelMooreWriter@gmail.com. Follow him on Twitter @MMooreWriter.