All In on AEW Trading Cards
By Michael Moore, WTC Contributor
With the buzz generated by the news of Upper Deck's first All Elite Wrestling trading card set and the All Out pay-per-view just around the corner, it feels like a good time to look back at the 2018 All In set from HighSpots.com.
Cody Rhodes, the Young Bucks and others organized what was then an independent wrestling supershow titled All In. Planned for Memorial Day weekend 2018, the event was paired with Conrad Thompson's first Starrcast event to give wrestling fans an alternative to the WWE product. All In was a smashing success, critically and financially, and paved the way for AEW a year later.
HighSpots.com produced approximately 2,500 36-card sets to commemorate the event. The All In cards were originally included as a part of HighSpots.com's monthly subscription box. Remaining sets were sold at All In merch stands and later online.
While the cards were incredibly popular, they didn't immediately carry much value. HighSpots.com carried full sets well into 2019 for $20, and even after those were gone, they didn't sell for much more on eBay.
And then the 2020 trading card explosion happened.
Wrestling cards, like all other sports cards, experienced a boom in sales and prices. Investors and casual collectors realized a couple things long-time wrestling card collectors already knew: wrestling cards were underpriced, and the All In set contained the very first trading cards of some of wrestling's emerging superstars.
The full All In set, which originally retailed for $20, now sells regularly in the $250-$300 range. The value of the set is driven by "rookie cards" of young stars like Dr. Britt Baker, MJF, and "Hangman" Adam Page. Raw, ungraded copies of those three cards have been fetching between $35 and $50 each. Other popular cards from the set include Kenny Omega, Tessa Blanchard, Penta El Zero M, Rey Fenix, Matt and Nick Jackson, and more.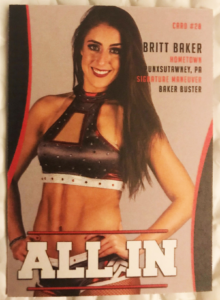 I spoke to several wrestlers in the days following All In about their cards when I was writing articles for the Pro Wrestling Torch. Baker told me she signed "a ton of them over the weekend and absolutely loved them. The cards are another piece of All In weekend that fans can take home and cherish forever. I'm so happy fans thought the trading cards were as cool as I did."
MJF was less enthusiastic about his encounters with fans that weekend.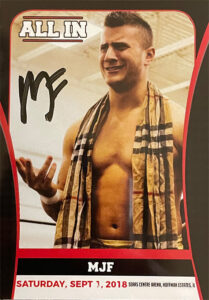 "I was constantly badgered by disgusting pigs all weekend at Starrcast to sign these cards," he told me, "and since I'm a nice guy, I did for a small fee of $59.99."
Collectors can't wait to get their hands on Upper Deck's AEW set, but what will that mean for the value of the All In set? Will a first AEW-licensed card of Britt Baker or MJF lower the value of their All In cards? Or will collectors treat the All In cards much in the same way baseball collectors treat a prospect or XRC card?
"It's a great time to be a wrestling fan" has become a mantra of modern day fans recently, specifically since the debut of CM Punk on AEW Rampage. The increasing popularity of wrestling cards show that it's certainly an exciting time to be a wrestling card collector.
WrestlingTradingCards.com contributor Michael Moore can be reached at MichaelMooreWriter@gmail.com. Follow him on Twitter @MMooreWriter.
The checklist for the 2018 All In set can be found at 2018 All In Official Trading Cards Series 1