Looking Back at the Landmark 2016 PWG BOLA Set
By Michael Moore, WTC Contributor
Author's note: The signed cards that appear with this article were provided by Michael Labbe (@superstarml).
Brian Ubben's 2016 Pro Wrestling Guerrilla Battle of Los Angeles set provided the right cards at the perfect moment. Independent wrestling's popularity was skyrocketing, and BOLA was seen by many as an annual gathering of the biggest independent talent from around the world.
The first BOLA set was designed by Ubben (@briandabrain) and printed by Chris Smith (@one2follow), with photographs from Mikey Nolan (@Mikey_Nolan). There were 24 cards in the basic set, one for each competitor in the tournament, along with four bonus cards. Ubben based the design on the 1991 WCW set from Impel.
"I love that throwback, off-centered '90s look with all the weird shapes and colors," Ubben told me in 2016. "I thought it would evoke some nostalgic reactions from people, which it did."
Approximately 150 sets were printed and distributed at the 2016 BOLA events. According to a WTC interview with Ubben, Highspots.com ordered another 100-150 sets and sold them in a box with all four bonus cards.
The 2016 BOLA set included the first cards of many wrestlers who went on to become major wrestling stars and are often dubbed "Rookie Cards" by collectors. Here's a look back at some of the key cards from that.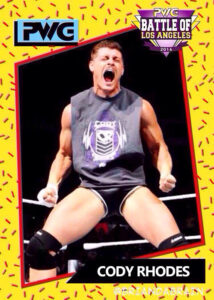 #1 Cody Rhodes. Cody was fresh off his WWE departure and in the midst of a tour facing the top independent wrestlers in the country, and this marked his first post-WWE card. He had successful runs in Ring of Honor, New Japan Pro Wrestling and TNA/Impact Wrestling before taking the lead in organizing the All In event in September 2018, which laid the foundation for All Elite Wrestling. He returned to WWE in 2022 and immediately became one of the company's top stars. Panini very quickly inserted Cody into its 2022 WWE Select product, released in August.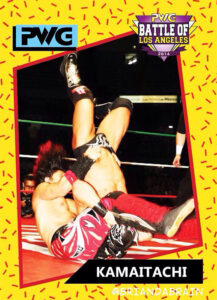 #2 Kamaitachi. Better known to wrestling fans now as Hiromu Takahashi, Kamaitachi was on his excursion to the U.S. and Mexico when he took part in the 2016 BOLA. He returned to NJPW as a member of Los Ingobernables de Japon that fall and has been one of the top junior heavyweights in the world ever since. He has appeared in several Japanese releases, but doesn't have a lot of cards readily available to collectors outside of Japan.
#6 Pete Dunne. Before Vince McMahon turned him into a turn-of-the-century English orphan named Butch, Dunne was considered by many as one of the best technical wrestlers in the world. In early 2017, Dunne was the standout of WWE's UK Championship Tournament. He lost to Tyler Bate in the final, but eventually became the centerpiece of NXT UK and one of the top stars of the American version of the company for several years. He has plenty of WWE cards from Topps and Panini, but this is his earliest known card.
#7 Sami Callihan. "The New Horror" returned to PWG after being underutilized as Solomon Crowe in NXT for two years. For the last few years, he has been one of Impact Wrestling's top stars. He has one of the most memorable cards in the 2016 BOLA set, "sitting on that dude's lap drinking beer next to Dave Meltzer with my boy Skits throwing up the 'W' in the background," Ubben said in a 2016 Pro Wrestling Torch Collectibles Column interview. Callihan appeared (as Crowe) on a handful of WWE cards, including 2015 Topps WWE Undisputed. He has also been features in several independent sets, and the 2021 Impact Wrestling set.
#8 Tommy End. The hard-hitting Tommy End was one of the most promising wrestlers on the European independent scene before being scooped up by WWE in 2016 and rechristened Aleister Black in NXT. He won the NXT title from Andrade in 2018 and was the centerpiece of that promotion before being called up to Raw in 2019. WWE never really knew what to do with Black, and he was released in the summer of 2021. He showed up in AEW a few weeks later as Malakai Black. After a promising feud with Cody Rhodes, Black fizzled out in AEW and reportedly asked for and received his release in September 2022. He has plenty of WWE cards from Topps, but also has one of the worst signatures ("AB") in all of wrestling.
#9 Trevor Lee. "The Technical Savage" was the darling of the North Carolina independent scene for several years and made it to the finals of the 2016 BOLA tournament before falling to Marty Scurrl. Lee spent several years in TNA/Impact Wrestling before signing with WWE in 2019. He was renamed Cameron Grimes, winning the North American Title once. Lee appears in several independent sets, including 2015 IPW and the 2017 and 2018 BOLA sets. As Grimes, he's been featured in plenty of WWE sets from Topps and Panini.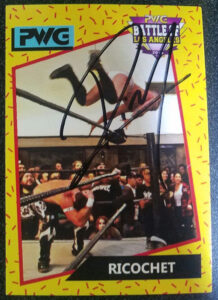 #15 Ricochet. Ricochet emerged as one of the most exciting independent wrestlers in the world in the mid-2000s, and by 2016 was already a veteran of PWG, Evolve, Dragon Gate USA, NJPW and Lucha Underground (as Prince Puma). He signed with WWE in 2018 and spent about two years in NXT. Although he toiled on the main roster under Vince McMahon, fans seem to have a renewed interest in Ricochet under the creative input of Triple H. This was Ricochet's second trading card, following the 2015 IPW set. He's also been included in multiple WWE products.
#16 Matthew Riddle. After several years in MMA, including a stint in UFC, Riddle made the transition to pro wrestling in 2014. He competed in several independents before making his way to WWE in 2018, where he is currently one of the company's top stars. Riddle previously appeared in UFC sets from Topps, but this was his first wrestling card.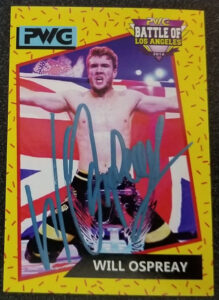 #22 Will Ospreay. The UK standout made it to the three-way final of the 2016 BOLA tournament before falling to Scurrl. He got his start on the British independent circuit and rose to prominence in Rev Pro. Ospreay made some appearances in ROH and made his way to NJPW. In the last few years, Ospreay has ascended to main event status in NJPW and is considered by many to be the best pro wrestler in the world. In 2016, Ospreay also appeared in NJPW King of Pro Wrestling products from Bushiroad. Leaf included Ospreay in its 2018 Legends of Wrestling set, which remains his only certified autograph to date.
#20 Fenix and #23 Pentagon Jr. Ever since squaring off against one another in AAA as far back as 2011, the Lucha Bros. have been something special. Many fans were first introduced to Fenix and Pentagon through Lucha Underground, which launched their careers to a new level. They competed in Impact Wrestling and Major League Wrestling and were some of the first signings to the fledgling AEW in 2019. The 2016 PWG BOLA set marked each man's first major trading card of note. They have since appeared in various independent sets and were both featured in Upper Deck's 2021 AEW debut product. Pentagon's autograph also can be found in the 2018 Leaf Legends of Wrestling set.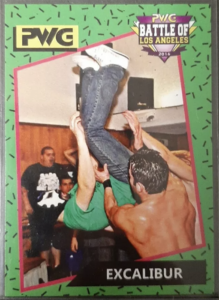 Bonus card: Excalibur. Before he was the masked lead commentator of AEW, Excalibur was one of the founders of PWG. His only other card of note is a 2015 IPW. Excalibur's 2016 BOLA card is a very popular card, with one recently selling for nearly $50.
Bonus card: Mount Rushmore 2.0. The Young Bucks and Adam Cole have been three of the top wrestlers in the world since this card came out. They were separated after Cole signed with WWE in 2017, but were reunited as part of AEW's Undisputed Elite in 2021.
WTC Contributor Michael Moore is a longtime wrestling fan and freelance writer whose work has appeared in Pro Wrestling Illustrated, Beckett sports collectibles publications, Tuff Stuff and more. He wrote a collectibles column for the Pro Wrestling Torch for 10 years before joining the WTC family in 2021. He can be reached at michaelmoorewriter@gmail.com. Follow him on Twitter @MMooreWriter.