Pinning Down Cards of WWE's Vince McMahon
By Michael Moore, WTC Contributor
July 22, 2022 marked the day that many wrestling fans thought would never come, as Vince McMahon retired from WWE.
(Ok, so he still owns 80% of voting stock and undoubtedly has the ear of those in charge, namely his daughter and son-in-law. But please play along.)
"Vinnie Mac" leaves behind a long, twisted legacy every bit as changing and confusing as the Kane-Undertaker storyline. Is he the god of wrestling, or is he the devil? Did he change wrestling for the better by shining it up and calling it "sports entertainment," or did his predatory practices that drove the territories out of business ruin the sport forever? Probably a little bit of all of those things.
For the most powerful man in the history of wrestling, McMahon's trading card presence is relatively limited. He just doesn't have that many cards. Most of McMahon's cards are low-end base cards and inserts, with a few super high end signatures thrown in. Here's a look at five cards of the evil Mr. McMahon that have caught collectors' eyes in recent days.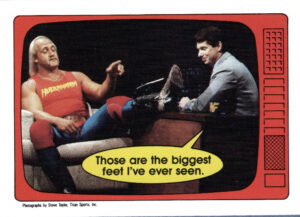 1. 1985 O-Pee-Chee WWF #56. McMahon's cards date back to the 1985 O-Pee-Chee WWF set. He's featured on a few cards with pictures from the old Tuesday Night Titans (TNT) show, but most collectors agree that card #56 with Hulk Hogan is considered Vince's "rookie card." Vince's name is boldly featured on the back of the card with a quote discussing the size of Hulk Hogan. Even before Vince's announced retirement/resignation, the card was selling at around $40-$50 for a raw, ungraded copy. Since then they've been selling as high as $100.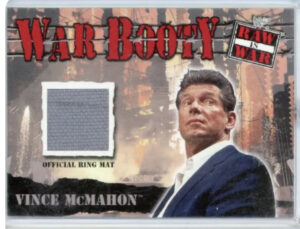 2. 2001 Fleer WWF Raw is War War Booty Memorabilia Mat Relic. Most of your favorite wrestlers have a plethora of event-worn relics or autograph cards to choose from, but not McMahon. This mat relic card may be his only memorabilia card from a licensed WWE product, though Leaf Trading Cards included his relics in several cards in its 2021 Ultimate Sports product.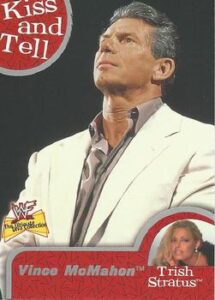 3. 2001 Fleer WWF Ultimate Diva Collection Kiss and Tell #1 of 12 KT. Given the allegations and investigations surrounding McMahon's retirement, appearing on a card with Trish Stratus called "Kiss and Tell" sure didn't age well. Trish says on the back of the card, "When Vince McMahon first approached me about being his 'special friend,' I was focusing on my career." Yikes. Most of McMahon's cards are from Fleer sets in the early 2000s, and this card is the most Vince card of them all in so many ways.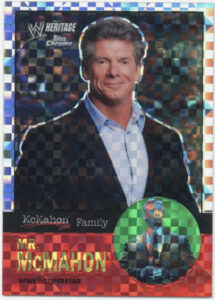 4. 2007 Topps Chrome WWE Heritage Xfractor #54. For several years this card only sold for a couple bucks at most. But the "ooh-it's-shiny" movement that drove Panini Prizm and Topps Chrome Refractor cards to ridiculously inflated sales prices in 2020 changed that. One of these cards sold for a whopping $124.99 back on June 14, but there's currently one available on eBay for $49.99.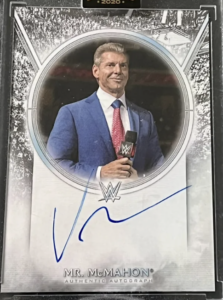 5. 2020 Topps WWE Fully Loaded Autograph. For many years, wrestling card collectors pined for a certified autograph of Vince McMahon. Topps appeased at least some of those collectors by including a limited number of his signatures in its super high end Transcendent products. In 2020, Vince's autograph was also included in the more affordable Fully Loaded product, serial numbered to just 40 copies. A couple of these cards are currently listed on eBay for around $4,500 to $6,000, but recently completed sales have been around the $1,000 to $1,200 mark.
WTC Contributor Michael Moore is a longtime wrestling fan and freelance writer whose work has appeared in Pro Wrestling Illustrated, Beckett sports collectibles publications, Tuff Stuff and more. He wrote a collectibles column for the Pro Wrestling Torch for 10 years before joining the WTC family in 2021. He can be reached at michaelmoorewriter@gmail.com. Follow him on Twitter @MMooreWriter.