Saying Goodbye to the Bad Guy
By Michael Moore, WTC Contributor
"Bad times don't last, but bad guys do."
Scott Hall's closing line from his 2014 induction into the WWE Hall of Fame has been shared countless times on social media over the last week as fans mourn his passing and celebrate his career. Hall was one of the most popular and influential wrestlers of the 1990s, and his cards remain extremely popular with collectors.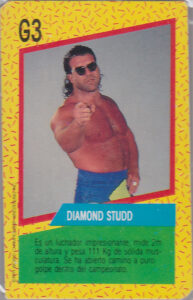 Hall's earliest cards are from his time spent as the Diamond Studd in WCW in the early 90s. He appears on card #G3 on a card from 1991 Cromy WCW Luchadores Juego de Naipes, a Brazilian card game.
His earliest traditional cards are from 1992, both for WCW and the WWF. In the 1992 Topps WCW UK set, the Diamond Studd is featured on cards #18 and #52. Hall leapt from WCW to the WWF in the summer of 1992, and his first WWF trading cards are cards #36 and #71 in the 1992 Merlin Gold Series part 2.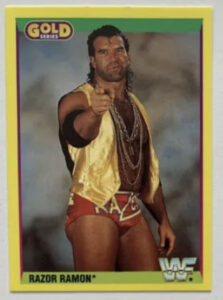 As Razor Ramon, Hall appeared on numerous trading cards, stickers and more in the mid-1990s. Three of his most popular moderately priced cards can be found in the 1994 Action Packed WWF set. Card #5 depicts Razor giving his Razor's Edge finisher to Ted Dibiase, and card #37 has a posed shot of "the Bad Guy" against a gold foil background. Ramon's 24 Kt. Gold Leaf insert was inserted at 1:24 hobby packs (one per box), but looks nearly identical to card #37. The shades of gold are somewhat different, and the 24KT card has the words "24 Kt. Gold" stamped under the action packed logo in the upper right corner.
Hall's return to WCW in 1996 brought with it a plethora of new cards, action figures, video games and more. As a founding member of the New World Order, Hall helped WCW move merchandise like never before. His signature is part of the landmark 1999 Topps WCW/nWo Nitro set. In fact, it remained his only certified autograph for more than a decade.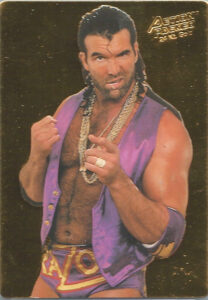 Hall doesn't have nearly as many signatures as contemporaries like Kevin Nash, so certified autograph trading cards have always been somewhat harder to come by. In recent months, the two most frequently traded signed cards of Hall have been his 2014 Leaf Originals Wrestling (as Scott Hall) and 2015 Topps WWE Undisputed (as Razor Ramon).
Prior to Hall's death, the 2014 Leaf autograph was regularly selling in the $30-$40 range. Sales have skyrocketed over the last week, with some auctions ending between $200 and $300. The average sale price of this card (not including serial numbered variations) has been just over $140.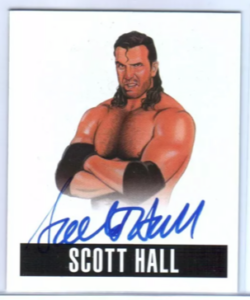 Razor's 2015 Undisputed autograph has never been especially cheap for several reasons. That set has become one of the most collected modern WWE sets, and Ramon just doesn't have many certified WWE autos. Even prior to Hall's death, the Undisputed autograph was regularly selling for $100-$125. Over the last week, the average sale price has been $214.25.
Michael Moore can be reached at [email protected]. Follow him on Twitter @MMooreWriter.